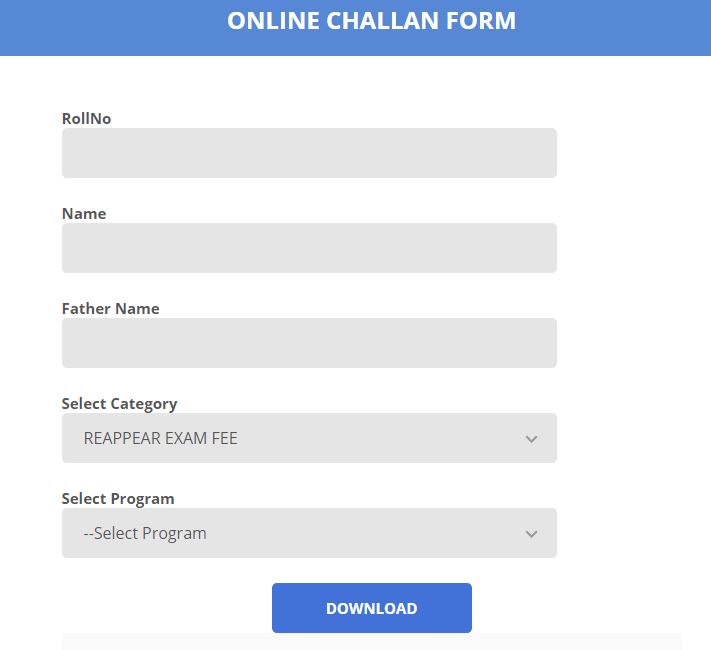 The challan form is available online (http://online.aiou.edu.pk/challan/) and one can fill in the following information in the online form to generate their challan form
Name
Father Name
Roll Number (optional)
CNIC
The challan essentials are filled online. Once the submit button is clicked challan form is available on the web which can be printed or saved to print later.
One other thing to consider is the amount section of the form. Different degrees have different fees for the urgent or normal application process which we'll discuss further in the next section in detail.
To know more about fees check the following image (we recommend you visit the official website for the latest fees).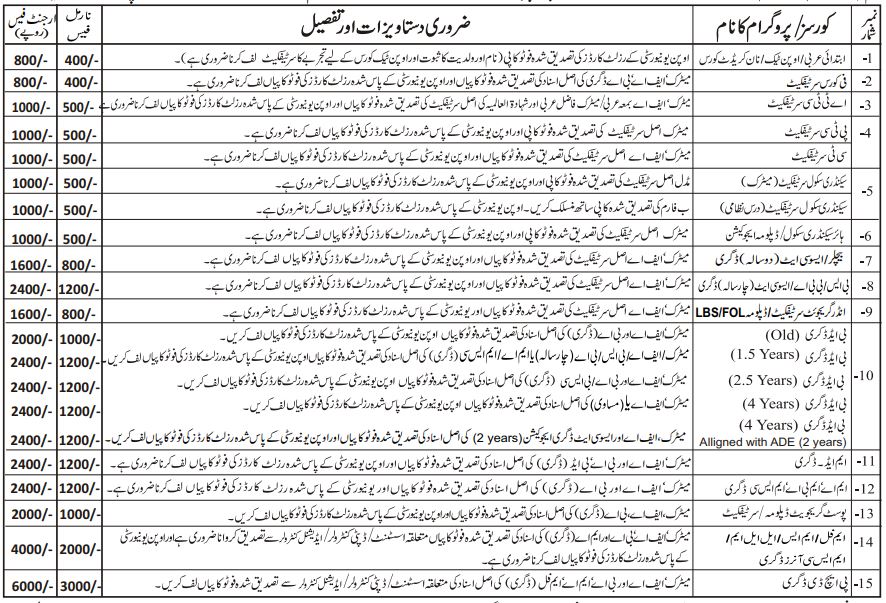 NOTE: Besides the degree fee if you've other dues left YOU MUST ADD THEM TO THE CHALLAN AMOUNT. Read below if you have unpaid dues in all semesters.
Add Unpaid Dues
In most cases, students left their re-appear fee or workshop fee during any of the semesters. Add those unpaid dues to the original degree amount.
Example: If you have to apply for a B.Ed degree and you also have to pay a re-appear fee for two subjects, then you'll add the amount of total as follow:
Normal Fee: 1000 + (2 * 400) = 1800 total
Urgent Fee: 2000 + (2 * 400) = 2800 total
Note: If you have unpaid dues left your degree forms will be rejected. So, be careful and pay all dues to avoid rejections.
Pay Challan in Bank
Previously AIOU has been supporting multiple banks but now they've narrowed the options. You can submit fee in the following banks:
Allied Bank Limited (ABL)
Submitted challan copy should be saved properly even one can snapshot with their phone.
Urgent/Normal Degree Delivery Days
With an urgent fee, the degree will be ready in 2 weeks and delivered to your address. Usually, with the urgent fee, it takes a month to reach your degree home (including post delays). Degrees are sent via TCS to your doorsteps.
University is not responsible for delivering you early with "Normal Fee". When I asked them about time they told me degrees with normal fees are delivered in years. I don't know exactly how much time it takes with the normal fee because I haven't met a single student with a normal degree fee experience. Write down below in the comments if you are the one.
I recommend an urgent fee for fast delivery as it takes under a month.